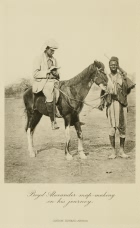 Boyd Alexander map-making
Boyd Alexander was born at Swifts Place, Cranbrook, Kent on 16th January 1873. He was a twin son with Robert Alexander of Lieut-Colonel Boyd Francis Alexander and his wife Mary Wilson and descended from the Alexanders of Ballochmyle in Ayrshire. Colonel Alexander and his wife had had two daughters born in Canada before giving bith to the twin sons. Three more sons followed, the youngest being Claud born in 1878.
Boyd Alexander was educated from 1888 at St Peters College, Radley, and it was during his school holidays that Boyd developed his enthusiasm for ornithology - making a study of the birds of Kent and Sussex. He enlisted in the army, joining the Rifle Brigade in 1893 and in 1896, Boyd and his friend John Springett, a skilled taxidermist, made a comprehensive study of nesting habits and migrations at Rye, which became the basis of probably the finest and most complex collection of Kent and Sussex birds in existence. In 1897 he led a scientific expedition to the Cape Verde Islands where he made an extensive collection of native bird species and, in 1898, went on his first African journey to the Zambezi and Kafuk rivers. He was appointed to the Gold Coast constabulary in 1900, and took part in the relief of Kumasi. In 1904 he led a scientific expedition to Fernando Po where he discovered various new species of birds. The same year saw the commencement of his most important work - an expedition across Africa from the Niger to the Nile accompanied by his younger brother Captain Claud Alexander, the zoologist Captain G.B. Gosling, P. Amaury Talbot and José Lopes. Later that year on 13th November 1904 Claud died of fever after six weeks of illness and was buried at Maifoni in Northern Nigeria. The expedition continued for three years and during this period Boyd surveyed the shores of Lake Chad and explored a considerable part of eastern Nigeria, returning to England by way of the rivers Ubangi, Shari and Nile. For his various discoveries he received gold medals from the Royal Geographical Societies of London and Antwerp, besides honours from other learned societies. In 1908 he returned to Africa for the last time and, during a local disturbance was killed by natives at Nyeri, in Wadai, on 2nd April 2 1910. His body was later recovered by French soldiers and Boyd was buried next to his brother at Maifoni in Northern Nigeria. A memorial to Claud and Boyd Alexander was placed in St Dunstans Church in Cranbrook.
Boyd Alexander published From the Niger to the Nile (1907), besides many articles and papers in scientific and geographical periodicals. His oustanding collection of Kent and Sussex birds was offered by his brother Herbert Alexander to Cranbrook and resides today at the Cranbrook Museum and his collection of 5,500 African birds resides at the Natural History Museum at Tring, Hertfordshire, as well as five manuscript volumes relating to his travel and bird collecting in Africa between 1898 and 1909.
---
Generation No. 1
1. Boyd Alexander, explorer and ornithologist was the son of (2) Lieut-Col. Boyd Francis Alexander and (3) Mary Alexander [Wilson]. He was born 16th Jan 1873 at Swifts Place, Cranbrook, Kent, registered at Cranbrook District, Kent, ref: 1873 Q1 Vol 2a Page 660, twin; died 2nd Apr 1910 at Nyerie, Africa, cause of death: killed in a dispute with local tribesmen near Nyeri; buried after 2nd Apr 1910 at Maifoni, Northern Nigeria, Africa, buried with full military honours beside his brother Claud
Generation No. 2
2. Lieut-Col. Boyd Francis Alexander was the son of (4) Boyd Alexander and (5) Sophia Elizabeth Alexander [Hobhouse]. He was born 17th Apr 1834 at Marylebone, London; christened 23rd Jun 1834 at Marylebone, London; died 19th Aug 1917 at Wilsley
He married Mary Wilson on 27th Dec 1865 at Hove, Sussex, registered at Steyning District, Sussex, ref: 1865 Q4 Vol 2b Page 477. She was born 1843 at Calcutta, India; died 30th Jul 1905 at Wilsley, Cranbrook, Kent, registered at Cranbrook District, Kent, ref: 1905 Q3 Vol 2a Page 463, aged 62 years. They had the following children:
i
Marion who was born 1867 Quebec, Canada
ii
Helenor who was born 1869 Ottawa, Canada; died July to Sep 1898, registered at Cranbrook District, Kent, ref: 1898 Q3 Vol 2a page 527, aged 28 years
iii
Boyd who was born 16th Jan 1873 Swifts Place, Cranbrook, Kent, registered at Cranbrook District, Kent, ref: 1873 Q1 Vol 2a Page 660, twin; died 2nd Apr 1910 Nyerie, Africa, cause of death: killed in a dispute with local tribesmen near Nyeri; buried after 2nd Apr 1910 Maifoni, Northern Nigeria, Africa, buried with full military honours beside his brother Claud
iv
Captain Robert who was born 16th Jan 1873 Swifts Place, Cranbrook, Kent, registered at Cranbrook District, Kent, ref: 1873 Q1 Vol 2a Page 660, twin
v
Herbert who was born 1875 Kensington, London; christened 22nd Jan 1875 Hove, Sussex; died Jan to Mar 1946, registered at Maidstone District, Kent, ref: 1946 Q1 Vol 2a Page 1576, aged 71 years
vi
David who was born July to Sep 1876 Swifts Place, Cranbrook, Kent, registered at Cranbrook District, Kent, ref: 1876 Q3 Vol 2a Page 680; died Apr to June 1895, registered at Cranbrook District, Kent, ref: 1895 Q2 Vol 2a Page 417, aged 18 years
vii
Captain Claud who was born Oct to Dec 1878 Swifts Place, Cranbrook, Kent, registered at Cranbrook District, Kent, ref: 1878 Q4 Vol 2a Page 696; died 13th Nov 1904 Maifoni, Northern Nigeria, Africa, cause of death: enteric fever; buried after 13th Nov 1904 Maifoni, Northern Nigeria, Africa
3. Mary Alexander [Wilson] She was born 1843 at Calcutta, India; died 30th Jul 1905 at Wilsley, Cranbrook, Kent, registered at Cranbrook District, Kent, ref: 1905 Q3 Vol 2a Page 463, aged 62 years
She married Lieut-Col. Boyd Francis Alexander on 27th Dec 1865 at Hove, Sussex, registered at Steyning District, Sussex, ref: 1865 Q4 Vol 2b Page 477. He was born 17th Apr 1834 at Marylebone, London; christened 23rd Jun 1834 at Marylebone, London; died 19th Aug 1917 at Wilsley. They had the following children:
i
Marion who was born 1867 Quebec, Canada
ii
Helenor who was born 1869 Ottawa, Canada; died July to Sep 1898, registered at Cranbrook District, Kent, ref: 1898 Q3 Vol 2a page 527, aged 28 years
iii
Boyd who was born 16th Jan 1873 Swifts Place, Cranbrook, Kent, registered at Cranbrook District, Kent, ref: 1873 Q1 Vol 2a Page 660, twin; died 2nd Apr 1910 Nyerie, Africa, cause of death: killed in a dispute with local tribesmen near Nyeri; buried after 2nd Apr 1910 Maifoni, Northern Nigeria, Africa, buried with full military honours beside his brother Claud
iv
Captain Robert who was born 16th Jan 1873 Swifts Place, Cranbrook, Kent, registered at Cranbrook District, Kent, ref: 1873 Q1 Vol 2a Page 660, twin
v
Herbert who was born 1875 Kensington, London; christened 22nd Jan 1875 Hove, Sussex; died Jan to Mar 1946, registered at Maidstone District, Kent, ref: 1946 Q1 Vol 2a Page 1576, aged 71 years
vi
David who was born July to Sep 1876 Swifts Place, Cranbrook, Kent, registered at Cranbrook District, Kent, ref: 1876 Q3 Vol 2a Page 680; died Apr to June 1895, registered at Cranbrook District, Kent, ref: 1895 Q2 Vol 2a Page 417, aged 18 years
vii
Captain Claud who was born Oct to Dec 1878 Swifts Place, Cranbrook, Kent, registered at Cranbrook District, Kent, ref: 1878 Q4 Vol 2a Page 696; died 13th Nov 1904 Maifoni, Northern Nigeria, Africa, cause of death: enteric fever; buried after 13th Nov 1904 Maifoni, Northern Nigeria, Africa
Generation No. 3
4. Boyd Alexander was the son of (6) Claud Alexander and (7) Helenora Alexander [Maxwell]. He was born 27th Mar 1796 at Ballochmyle, Ayrshire, Scotland; christened 14th Apr 1796 at Mauchline, Ayrshire, Scotland
He married Sophia Elizabeth Hobhouse on 17th Jan 1828 at St Mary the Virgin, Twickenham, Middlesex, witnesses: Benjamin Hobhouse, Henry W. Hobhouse and Helenora Alexander. She was born c 1850. They had the following children:
i
Claud who was born 15th Jan 1831 Marylebone, London; christened 18th Mar 1831 Marylebone, London
ii
Lieut-Col. Boyd Francis who was born 17th Apr 1834 Marylebone, London; christened 23rd Jun 1834 Marylebone, London; died 19th Aug 1917 Wilsley
iii
William Maxwell who was born 3rd Feb 1836 Marylebone, London; christened 31st Mar 1836 Marylebone, London
iv
Helenora Margaret Angela who was born 6th Dec 1837 Marylebone, London; christened 18th Apr 1838 Marylebone, London
v
Michael Stewart who was born 8th Oct 1839 Marylebone, London; christened 19th Nov 1839 Marylebone, London
5. Sophia Elizabeth Alexander [Hobhouse] She was born c 1850
She married Boyd Alexander on 17th Jan 1828 at St Mary the Virgin, Twickenham, Middlesex, witnesses: Benjamin Hobhouse, Henry W. Hobhouse and Helenora Alexander. He was born 27th Mar 1796 at Ballochmyle, Ayrshire, Scotland; christened 14th Apr 1796 at Mauchline, Ayrshire, Scotland. They had the following children:
i
Claud who was born 15th Jan 1831 Marylebone, London; christened 18th Mar 1831 Marylebone, London
ii
Lieut-Col. Boyd Francis who was born 17th Apr 1834 Marylebone, London; christened 23rd Jun 1834 Marylebone, London; died 19th Aug 1917 Wilsley
iii
William Maxwell who was born 3rd Feb 1836 Marylebone, London; christened 31st Mar 1836 Marylebone, London
iv
Helenora Margaret Angela who was born 6th Dec 1837 Marylebone, London; christened 18th Apr 1838 Marylebone, London
v
Michael Stewart who was born 8th Oct 1839 Marylebone, London; christened 19th Nov 1839 Marylebone, London
Generation No. 4
6. Claud Alexander He was born 1752 at Ballochmyle, Ayrshire, Scotland
He married Helenora Maxwell on 1788 at Ayrshire, Scotland. She was born c 1755. They had the following children:
i
Claud who was born 26th Jan 1789 Ballochmyle, Ayrshire, Scotland; christened 23rd Feb 1789 Mauchline, Ayrshire, Scotland
ii
William Maxwell who was born 20th Jul 1790 Ballochmyle, Ayrshire, Scotland; christened 3rd Aug 1790 Mauchline, Ayrshire, Scotland
iii
Margaret Stewart who was born 20th Oct 1791 Ballochmyle, Ayrshire, Scotland; christened 7th Nov 1791 Mauchline, Ayrshire, Scotland
iv
Anna Joanna who was born 26th Mar 1793 Ballochmyle, Ayrshire, Scotland; christened 11th Apr 1793 Mauchline, Ayrshire, Scotland
v
Catharine Maxwell who was born 1794 Ballochmyle, Ayrshire, Scotland; christened 16th Sep 1794 Mauchline, Ayrshire, Scotland
vi
Boyd who was born 27th Mar 1796 Ballochmyle, Ayrshire, Scotland; christened 14th Apr 1796 Mauchline, Ayrshire, Scotland
vii
Helenora who was born 12th Feb 1798 Ballochmyle, Ayrshire, Scotland; christened 26th Feb 1798 Mauchline, Ayrshire, Scotland
viii
Helenora who was born 17th Aug 1802 Ballochmyle, Ayrshire, Scotland; christened 2nd Sep 1802 Mauchline, Ayrshire, Scotland
ix
Mary who was born 20th Oct 1806 Ballochmyle, Ayrshire, Scotland; christened 6th Nov 1806 Mauchline, Ayrshire, Scotland
7. Helenora Alexander [Maxwell] She was born c 1755
She married Claud Alexander on 1788 at Ayrshire, Scotland. He was born 1752 at Ballochmyle, Ayrshire, Scotland. They had the following children:
i
Claud who was born 26th Jan 1789 Ballochmyle, Ayrshire, Scotland; christened 23rd Feb 1789 Mauchline, Ayrshire, Scotland
ii
William Maxwell who was born 20th Jul 1790 Ballochmyle, Ayrshire, Scotland; christened 3rd Aug 1790 Mauchline, Ayrshire, Scotland
iii
Margaret Stewart who was born 20th Oct 1791 Ballochmyle, Ayrshire, Scotland; christened 7th Nov 1791 Mauchline, Ayrshire, Scotland
iv
Anna Joanna who was born 26th Mar 1793 Ballochmyle, Ayrshire, Scotland; christened 11th Apr 1793 Mauchline, Ayrshire, Scotland
v
Catharine Maxwell who was born 1794 Ballochmyle, Ayrshire, Scotland; christened 16th Sep 1794 Mauchline, Ayrshire, Scotland
vi
Boyd who was born 27th Mar 1796 Ballochmyle, Ayrshire, Scotland; christened 14th Apr 1796 Mauchline, Ayrshire, Scotland
vii
Helenora who was born 12th Feb 1798 Ballochmyle, Ayrshire, Scotland; christened 26th Feb 1798 Mauchline, Ayrshire, Scotland
viii
Helenora who was born 17th Aug 1802 Ballochmyle, Ayrshire, Scotland; christened 2nd Sep 1802 Mauchline, Ayrshire, Scotland
ix
Mary who was born 20th Oct 1806 Ballochmyle, Ayrshire, Scotland; christened 6th Nov 1806 Mauchline, Ayrshire, Scotland