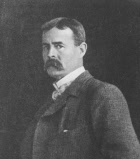 Wilfrid Williams Ball was born on 4th January 1853 in the East End of London to Benjamin Williams Ball, an accountant, and his wife Sylvia nee Good. Although born and growing up in poor surroundings, Wilfrid was part of a successful banking and trading family. His uncle John Ball (1808 - 1879) was one of the founding members of the Institute of Chartered Accountants and his brother John Ball Ball b 1844 became President of the Institute for the year 1908/9. Wilfrid's other uncle Thomas Mugliston Ball was a prominent Sugar Trader.
Benjamin and Sylvia Ball had six children and the youngest three - Arthur, Wifrid and Rosamund - all had strong aesthetic leanings. Arthur was a painter and exhibited at the Royal Society of British Artists shows before his early death in 1885. Rosamund became a well-known poet, critic and essayist and had multiple marriages and relationships. She is often better known by the name of Rosamund Marriott
Wilfrid's earliest career was as an accountant but he spent his spare time at the Heatherley School of Art in Chelsea and by 1877 was exhibiting his work. In 1881/2 his etchings of the Thames gained a warm eulogy from and, subsequently he worked with, James Whistler:
For the next two decades he painted landscapes and marine subjects and exhibited widely at the Royal Academy; Royal Society of Painters, Etchers and Engravers; Royal Institute of Painters in Water Colours; and many others. He became President of the Society of British Artists in 1886. He was also a member of The Arts Club from 1896 until 1916.
Wilfrid lived most of his life in London but he travelled widely throughout Europe and developed a close relationship with the counties of Sussex and Hampshire. His book 'Sussex - Painted by Wilfrid Ball' published in 1906 and 'Hampshire - Painted by Wilfrid Ball' published in 1909 brought his paintings to a much wider audience and significantly enhanced his popularity. Many of his paintings were used, and still are, on postcards and greetings cards.
He married Florence Helen Hollinshead late in life and died 14 February 1917 of heat exhaustion in Khartoum during WWI while working as an administrator for the British Army.
---
Born
Christened
London Metropolitan Archives
Jul to Sep 1895
Married
Register of marriages
1904
Crowborough Heath, Crowborough painted by Wilfrid Ball
1904
Groombridge, Groombridge painted by Wilfrid Ball
1904
Garden of the Moated House, Groombridge painted by Wilfrid Ball
1904
The Inn, Hartfield painted by Wilfrid Ball
1904
Hartfield painted by Wilfrid Ball
1904
Mayfield painted by Wilfrid Ball
1904
Mayfield painted by Wilfrid Ball
1904
Cottages at Mayfield painted by Wilfrid Ball
1904
The Rother painted by Wilfrid Ball
1904
Sussex Hills painted by Wilfrid Ball
1904
High Street, East Grinstead painted by Wilfrid Ball
Died
At Khartoum, Sudan
Probate Registry of England and Wales
Probate
Probate Registry of England and Wales