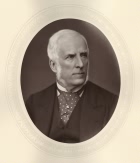 © National Portrait Gallery
John Callcott Horsley was born on 29th January 1817 the third child and eldest son of William Horsley and his wife Elizabeth Hutchins (nee Callcott) Horlsey. The Horsleys were established members of the music and arts London society and related to the painter Sir Augustus Wall Callcott. In 1823 the Horsleys moved to No 1, High Row, Kensington in London where John Callcott Horsley was to live for the rest of his life. In 1831 John entered the Royal Academy Schools where he met the painter Thomas Webster with whom he was to form a close working relationship that lasted throughout his life. On 25th August 1846 John married Elvira Catherine Jenny Walter but her death in 1852 followed by the death of their two sons, Edward and William, in 1854 from scarlet fever and the death of their last child, Frank, in 1857 marked a period of great sadness in John's life. On 13th June 1854 John married Rosamund Haden and together they had seven children three of whom were born at Cranbrook. In 1861 the Horsleys bought a second home at Wilsley in Cranbrook, as John was drawn to the artist's colony that had been established there by his lifelong friend Thomas Webster.
Frederick Daniel Hardy, George Hardy, Thomas Webster, George Bernard O'Neill, John Callcott Horsley and Augustus Edwin Mulready were an informal group of six professional painters known as the Cranbrook Colony that thrived in Cranbrook in the latter half of the nineteenth century. They were a close association of colleagues and friends, and, in the case of the Hardy brothers and G.B. O'Neill, distant relatives. All six were "Genre" painters depicting scenes from daily life, either real or imaginary and, through their work, we have an accurate depiction of the people and homes in the Cranbrook area during the Victorian age. Often the Colony used their children, families and friends as models with the Hardys and Webster focused on rustic interiors and O'Neill and Horsley on picturesque historic architecture. The six painters, who occupied The Old Studio in the High Street, were prolific in their work and exhibited extensively at the Royal Academy and the British Institution.
John Callcott Horsley was elected an associate of the Royal Academy in 1855 and a Royal Academician in 1864. He also served as treasurer at the Royal Academy from 1882 to 1897.
At the age of 86 on 19th October 1903 John Callcott Horsley died at High Row, Kensington and he was buried three days later at Kensal Green cemetery in London
---
Born
Christened
1837
Il Futuro Del Regno, Oil painted by John Callcott Horsley
Private collection
1839
The Pride of the Village, Oil on Mahogany painted by John Callcott Horsley
Private collection
1839
The Rival Performers, Oil on panel painted by John Callcott Horsley
Private collection
1839
The Contrast: Youth and Age, Oil painted by John Callcott Horsley
Private collection
1841
Waiting for an Answer, Oil on panel painted by John Callcott Horsley
Private collection
1843
The First Christmas Card (designed for Sir Henry Cole) painted by John Callcott Horsley
Private collection
Married
Jan to Mar 1848
Birth of a son
Jul to Sep 1849
Birth of a son
1850
Birth of a son
1853
Lady Jane Grey and Roger Alscham, Oil painted by John Callcott Horsley
Private collection
Married
Jan to Mar 1855
Birth of a son
1856
Auld Grannie & the wee Nan; Highland Interior, Etching by John Callcott Horsley
Private collection
1856
Kept Waiting, Etching by John Callcott Horsley
Private collection
1856
Say "Not at Home", Etching by John Callcott Horsley
Private collection
Apr to Jun 1856
Birth of a son
1857
Isambard Kingdom Brunel, Oil on Canvas painted by John Callcott Horsley
Private collection
Apr to Jun 1857
Birth of a son
1858
Country Flower Girls, Oil on Canvas painted by John Callcott Horsley
Private collection
Jul to Sep 1858
Birth of a daughter
Oct to Dec 1859
Birth of a daughter
Oct to Dec 1862
Birth of a son
1863
St. Valentine's Morning, Oil on Canvas painted by John Callcott Horsley
Jan to Mar 1864
Birth of a daughter
1865
A Pleasant Corner, Oil on Canvas painted by John Callcott Horsley
Private collection
1870
The Truants, Oil painted by John Callcott Horsley
Private collection
1876
Coming to Dinner, Oil painted by John Callcott Horsley
Private collection
1877
The World Forgetting - Sunday Afternoon in Kensington Gardens, Oil on Canvas painted by John Callcott Horsley
1883
Wedding Rings, Oil on Board painted by John Callcott Horsley
Private collection
Died
Buried
Probate
Probate Registry of England and Wales