Enlarge
[North] Sussex by John Norden and augmented by John Speed - 1610
Source:
John Speed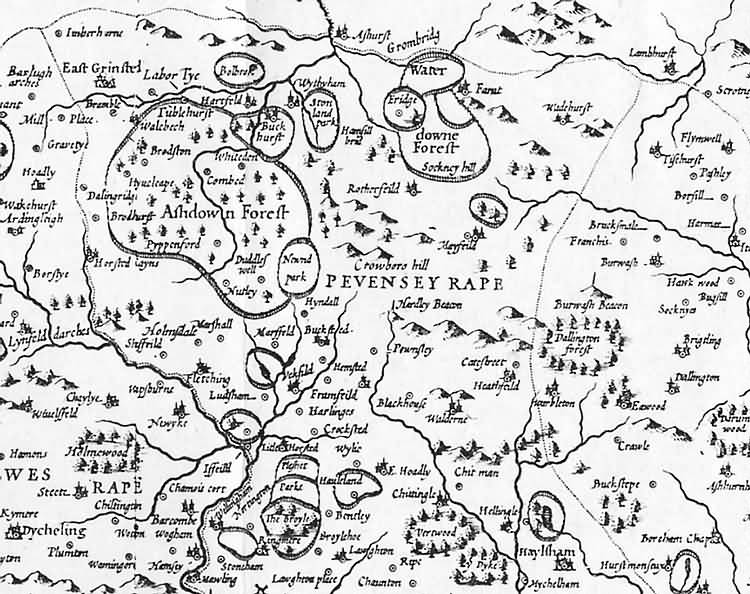 The first engraved maps of the counties of Great Britain were the work of Christopher Saxton who, under the authority of the Privy Council, surveyed the English counties in Elizabethan times, from 1574 to 1578. In 1593 he was followed by John Norden who projected an ambitious scheme for a complete series of county histories. He published before his death a number of counties - Middlesex, Hertfordshire, Essex, Northampton, Cornwall, Sussex and Surrey. John Speed's map of Sussex is based upon Norden's map and was engraved by Jodocus Hondius. It occupies pages nine and ten of John Speed's Atlas entitled "The Theatre of the Empire of Great Britaine", is 20 1/4 inches by 15 1/4 inches in size and shows additionally an interesting plan of Chichester and a spirited representation of the Battle of Hastings.
for more information refer to Printed Maps of Sussex, 1575-1900 by D. Kingsley, published by the Sussex Record Society
and visit Old Sussex Mapped: Two centuries of Sussex County Maps researched by the Department of Geography, University of Portsmouth, UK.
The Weald is at Database version 14.04 which has ongoing updates to the 395,000 people; 9,000 places; 613 maps; 3,308 pictures, engravings and photographs; and 248 books loaded in the previous version